This is happening in America right now, as only such things can.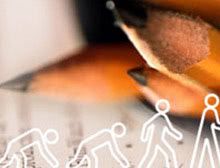 In a Pennsylvania township called Dover, the district school board there just decided that Charles Darwin's theory on evolution is ultimately flawed and that it contained gaps as huge as the water we see in the ocean. And so, they decided to teach the students enrolled in their school system the idea that man existed due to no other causes but by the intelligent hands of God, and that existence on earth is so complex that there could only be a God behind it. This alternative theory to evolution is termed as "intelligent-design" concept and known some other times as "creationism", a philosophy on man's existence that is well-attuned to the story of creation as told in the Bible.
Now, the parents of 11 students from Dover School District have starkly protested this compulsory inculcation of the "intelligent-design" concept of man's existence and insisted that the usual scientific philosophy of evolution as theorized by Charles Darwin should remain in the curriculum of the said school and not any concept that is so devoid of scientific and empirical evidence. The parents also complained that teaching the "intelligent-design" concept would merely undermine the notion that science should be trusted completely, and should be believed as it should be. They say that bringing down science will only be bad for the kids.
It would be quite interesting to find out how this U.S. landmark trial will turn out in the end. Is man created by God or did it existed through millions of years of evolution? This is not the primary question that the U.S. Supreme Court will haveto decide upon but for certain, it would be so swell to see how the American justices will comment on it.
...
Sign up here with your email